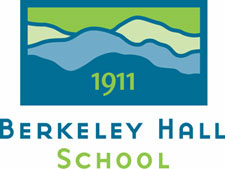 16000 Mulholland Drive
Los Angeles, CA 90049
admissions@berkeleyhall.org
Introduction
Berkeley Hall School is a non-sectarian, coed, private school for students from preschool to 8th grade. We are dedicated to inspiring students to excel in academics, and become active thinkers and conscientious stewards of the world. Founded in 1911, BHS is grounded in a sense of community and committed to providing a balanced and inclusive education for all. In addition to challenging academics, we offer a variety of visual and performing arts, athletics, enrichment, outdoor education, STEAM and leadership programs.
Our 66-acre campus has multiple playgrounds, sports fields, tennis, basketball, and volleyball courts, a swimming pool, amphitheater, and performing arts center. We are proud of our state-of-the-art Innovation Lab where students can be creative using the latest software and technology.
A Word From Admissions
BHS is where challenging academics are coupled with a love of learning, leadership with social responsibility, creativity with moral integrity, and self-esteem with compassion for others. Our long history is deeply grounded in our sense of community and in our commitment to a global standard of educational excellence. We are dedicated to inspiring students to excel in academics, to be active thinkers, and to be conscientious stewards of the world.
Best Fit For Kids Who Are
Popular Programs/Electives
We proudly offer an array of sports, including basketball, flag football, soccer, softball, swimming, volleyball, tennis and track & field. Our popular electives for grade 6th through 8th include acting, art studio, coding, game design, innovation lab, mock trial, musical theater, photography, urban farming, and wood shop. Please see our website for additional information.
APs/Advanced Courses
As a Nursery through 8th grade school, we do not offer AP, nor advanced courses. We do differentiate for students who are advanced.
Interesting Facts
– First co-ed independent elementary school in Los Angeles
– 90% of graduates get into their top choice high schools
– On 66 acres, our campus has seven buildings, pool, tennis courts, soccer field, baseball fields, and an amphitheater
Grades
Pre-School, TK, K, 1, 2, 3, 4, 5, 6, 7, 8
Co-Ed or Single Sex
Co-Ed
Religious Affiliation
None
Tuition
$35,610 (K-5), $38,840 (6), $39,480 (7-8)
Financial Aid
25% of students receive financial aid
Applications Due
January 15, 2023
Entrance Exam Required
Test Blind
Decisions Released
March 10, 2023