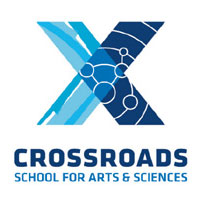 1714 21st Street
Santa Monica, CA 90404
Introduction
Crossroads School strives to prepare students to think critically, express themselves openly and commit themselves to lives that value community, justice, and activism. At Crossroads, you'll find strong bonds between students and teachers; a welcoming, inclusive environment; and a joyful and diverse student body that approaches education with curiosity, creativity, and courage.
A Word From Admissions
Every day, our community of nearly 1,200 kindergartens through 12th graders connects and challenges one another in deep and meaningful ways. Our extraordinary faculty and staff serve as academic and personal mentors as our students grow from 5-year-olds into young adults who are poised to effect positive change in our world. We invite you to virtually experience the uniqueness of Crossroads, and we can't wait to meet you!
Academic Atmosphere
Collaborative and community-oriented.
Best Fit For Kids Who Are
Open-minded and studious.
Popular Programs/Electives
Our signature programs include Environmental and Outdoor Education (a fully staffed department with expert faculty who lead students on interdisciplinary explorations and support the classroom curricula) and our Life Skills program (a K-12 communication and wellness program emphasizing connection and community).
APs/Advanced Courses
Crossroads doesn't offer AP courses; we believe curiosity is your guide as you plan your studies. The high ceiling for advanced learning stretches from math and science to music, the arts, and more, and includes Crossroads Advanced Studies (CAS) courses in Upper School, independent research projects, and concentrations in music, visual arts, and drama.
Interesting Facts
– Our annual fifth-grade science and technology collaboration, "Robotathon," showcases students' ability to design and construct a machine that can complete a number of challenges.
– Crossroads Middle School offers over 80 Options for classes.
– Seniors take on a three-week immersive project of their choice and go on a life-changing Rites of a Passage nature retreat.
Grades
K, 1, 2, 3, 4, 5, 6, 7, 8, 9, 10, 11, 12
Co-Ed or Single Sex
Co-Ed
Religious Affiliation
None
Tuition
$38,972 (K-5), $45,761 (6-12)
Financial Aid
25% of students receive financial aid
Applications Due
December 9, 2022
Entrance Exam Required
Test Blind
Decisions Released
March 10, 2023