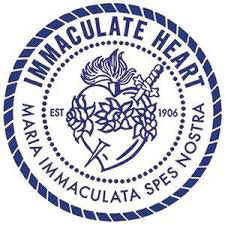 5515 Franklin Avenue
Los Angeles, CA 90028
admissions@immaculateheart.org
Introduction
Nestled in the Los Feliz foothills, Immaculate Heart fosters academic excellence and creativity in an environment that empowers students to become women of great heart and right conscience. Immaculate Heart combines a well-balanced mixture of traditional and innovative; of discipline and freedom; of play and work; of concern for things of the heart and mind; of a readiness to create and celebrate. For generations, IH students distinguish themselves by their intellectual curiosity, compassion, and courage.
A Word From Admissions
Immaculate Heart has been educating the hearts and minds of young women since 1906. True to our philosophy and mission, we have long been committed to addressing the uniqueness of each individual and thereby strengthening her belief in herself and in her unlimited potential.
Best Fit For Kids Who Are
Popular Programs/Electives
Over 30 clubs and activities are initiated by student leaders. We also offer basketball, cross country, diving, equestrian, soccer, softball, swimming, tennis, track & field, and volleyball. Please see our website for additional information.
APs/Advanced Courses
18 AP classes and 14 honors courses are offered, as well as numerous electives in every academic discipline.
Interesting Facts
– Award-winning student artists and scholar-athletes
– Our campus features science laboratories, visual arts studios, a theatre stage, a dance studio, and an athletic center with a weight room and competition-sized pool
– Founded in 1906 by the Sisters of the Immaculate Heart of Mary, a Catholic religious order of women who trace their origin to Olot, Spain
Grades
6, 7, 8, 9, 10, 11, 12
Co-Ed or Single Sex
All Girls
Religious Affiliation
Catholic
Tuition
$19, 800 plus fees
Financial Aid
Merit scholarships & financial aid available
Applications Due
January 6, 2023
Entrance Exam Required
HSPT given Jan. 14, 2023 (ISEE, SSAT also accepted)
Scores Due
January 31, 2023
Decisions Released
March 3, 2023